The amazing thing about the construction business is you can see the impact of the work you do.
Take a company with a dream to expand their warehouse, or a medical practice that wants to build a new doctor's office.
An architect draws up the plans – that you can see.
A framer puts up the walls – that you can touch.
A crew walls in the rooms, lays the floors and runs the wiring to light it all up – creating a space you can literally walk into and serve people.
But what if your job – even a job within the commercial construction industry – is focused on building stronger minds, happier hearts and more fulfilled lives?
That's not something you can always see with your eyes.
But if you ask Justin Moore, Spain Commercial, Inc's Chaplain and Site Safety Inspector, it's something you can feel with your heart.
Early Calling
Growing up, Moore's father was a Methodist pastor. His great-great grandfather was even a preacher on horseback.
"I was supposed to be the fourth-generation pastor of my family," Moore said.
But in those early days of early adulthood, he didn't feel the calling.
When he turned 18, he went to Costa Rica to do mission work and almost every year for the next decade would travel to different countries around the world on a mission.
Ultimately, he would learn and come back with a continued heart to help people.
"I hated to see people struggle," he said. "I wanted to invest in people with more time than I ever had."
Moore earned his undergraduate degree in criminal law because that's what he thought he was supposed to be doing.
"I was going to study criminal law, become a state police patrol officer for a few years and then get into federal government," Moore said.
After school, he was offered a law enforcement job, and even though he'd worked hard to get there, it didn't feel right.
He turned it down and by 2008 was in Switzerland working with a missionary group there and learning how to be a missionary more full-time in other countries.
When he came back home, something – someone – found him.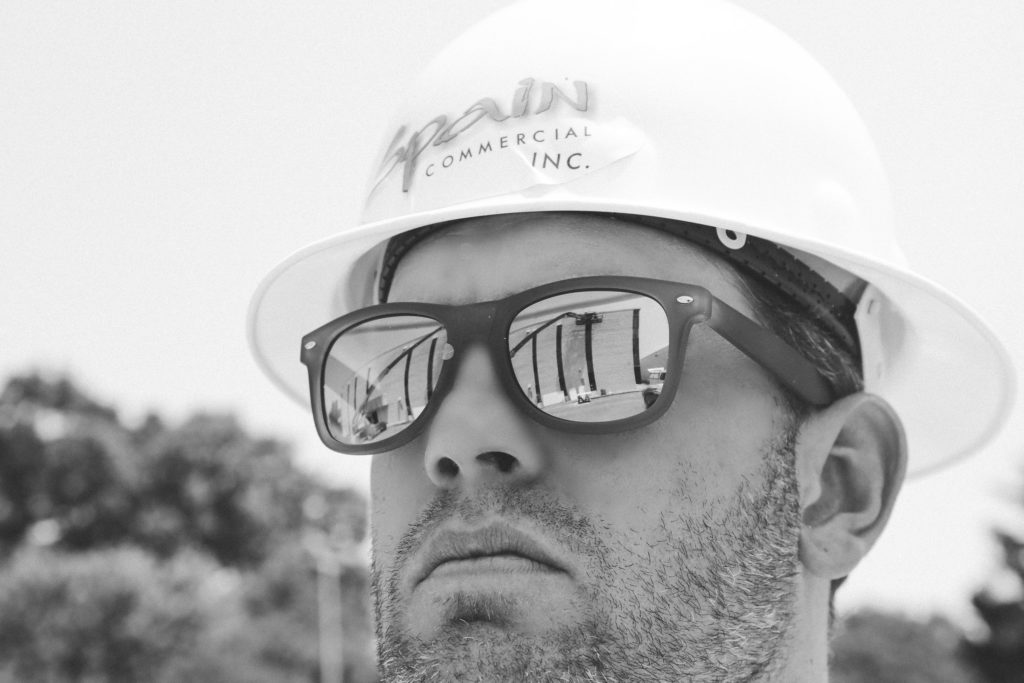 From Missionary to Mechanic to Spain Commercial, Inc.
While working in Virginia Beach as a mechanic and a youth pastor – having developed a heart for working with kids – Moore met Kayleigh Spain.
Ask Spain and she'll tell you that Moore told her on their very first date he would marry her.
He just knew.
He also knew always wanted lots of kids (today they have three), but didn't meet Moore until he was 32.
They did get married, and with experience as a mechanic, Moore started with Spain Commercial, Inc., which Kayleigh's father, Steve Spain, founded, as a truck driver.
Moore had no commercial construction experience, was coming in as the owner's son-in-law, and had to prove himself.
"I could work on trucks, could teach you the Bible, but I didn't know anything about blue prints," Moore said. "I had to earn my stripes. I had to prove that I wasn't here just because I was Steve's son-in-law."
Soon enough superintendents started requesting Moore to come on their job sites.
"Not because I was the best at it," Moore joked, "but because I would bring positive morale."
Moore moved from truck driver, to helper in the field, to more carpentry work.
Then, in 2018, something special happened.
A Mission to Serve
At the time, Spain Commercial, Inc. didn't have a chaplain. But Steve Spain had recently returned from a conference and came home inspired to help the team find more encouragement, and spiritual direction, in life. He wanted to give them someone to talk to.
That's when the role of Spain Commercial, Inc. Chaplain was born.
"Men are not great communicators," Moore said, "especially in the construction industry."
Moore first started hosting a weekly Bible study and maintaining an open-door policy to come talk with him at any time.
In those early days, though, it was hard to get people to open up, to come to the conversations about life, spirituality and study.
He had already been working with the guys in the field and had developed friendships with them, but again, men aren't always great communicators, he said.
Because of his role in safety, Moore continued to visit the job sites themselves.
While on site, he would check on regulations and codes, and check in with everyone.
"I would talk to them, see how things were going in their life, if they had health issues, family challenges," Moore said.
It was in that setting that he realized something special.
When you meet people where they are the most comfortable – like construction workers on a job site – they tend to be available to open up more. It gives them a chance to talk without being that guy who comes into an office space to open up his heart.
It started to work.
More guys started talking. More people started to feel comfortable to talk. And then more started attending the Bible study.
"God has such an awesome calling for each of us," Moore said. "Sometimes you don't see what's inside of you until someone shows you."
Eventually, the Bible study started opening up and even guys outside of Spain Commercial, Inc. started coming – like the subcontractors on the job sites and other partners on projects.
"What people started to realize around the room in those Bible studies is that we all come from different backgrounds, all have different demographics, but we all have things…things we struggle with and challenges we're working to overcome," Moore said.
Every one of them was working to be a better husband, a better father, and to know the Lord, Moore said.
"I haven't seen a company in this area like ours that has a company chaplain," Moore said. "But we all should. All of it ties together to provide the team higher morale, to give them encouragement. It's an investment in people, in each other, in their lives, and in the work that they do."
When you have higher morale and happier team members, you have a stronger team.
"There is loyalty to each other here," Moore said. "We don't just care about whether you can swing a hammer. This is about caring about somebody's well-being. Not only are we investing into them, but they want to invest more of who they are into the company."
Over the years, Moore has started to feel the impact of this mission.
One wife called Moore and thanked him because she saw her husband changing.
"We've had an overflow of people wanting to be part of this company because they see how we are such a close-knit group and that people truly, genuinely care about each other."
Moore has seen the guys grow, mend marriages, gain new energy for the work they do and open up.
"We do this because we care about each other," Moore said. "The result is that we have a team that's even more efficient on a job site, that's happier in their lives and happier with themselves."
Nobody came before Moore in his role, so even with all the successes "it's still rough terrain," he said. "I'm trying to figure it out and set an expectation. In the field, you can build a wall. With this, we are building relationships. You can't always see what you've built, but you know it makes an impact."