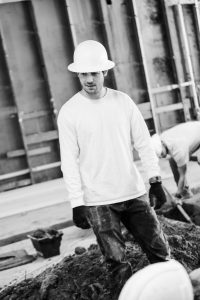 There's something about working on the Spain Commercial, Inc. team that's like playing on a baseball team, Ryan Fleischmann will tell you.
He would know.
Today, Ryan serves as a Superintendent for Spain Commercial, Inc., but it was as a baseball pitcher in high school and college that he learned the culture of teamwork, of the thrill of the win and the power that comes from working together and chasing a common goal.
First and foremost, everyone on a baseball team, and at Spain Commercial, Inc., is out to win. Winning on the ball field may mean scoring more runs, but winning on the construction site means designing and delivering a project to a client to help grow their business, on time, on budget and safely.
"There is a team aspect to baseball and a team aspect to Spain," Ryan said. "There's a camaraderie here among all of us that is just like being in a locker room."
And, of course, in both settings, everyone is led by a great coach driven to help everyone succeed as individuals and as a team.
"Steve Spain (founder), without question, is one of the nicest humans I've ever met," Ryan said. "They have taken me under their wing, mentored me, and given me every opportunity to succeed."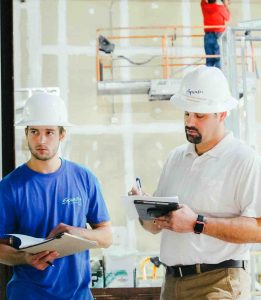 Born and raised in the greater Williamsburg region, Ryan officially joined the Spain Commercial, Inc. team in 2013 having attended Lafayette High School and then earning a degree from Christopher Newport University.
While he studied communications, he always knew construction was where he wanted to build his career.
"I've always loved to work with my hands," Ryan said of growing up on a horse farm. "Drive tractors. Chainsaws. Running a lawn mower. I wanted to do it all."
He credits an early love of construction to his grandfather.
"He's about as manly as you can get," Ryan said. "Just one tough son of a gun and one of those guys who would never ask for help and could get anything done."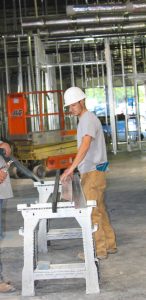 It was his grandfather who taught him the basics of construction and how to swing a hammer.
Ryan started working in residential construction, doing side jobs here and there to earn money for school, but soon realized that was not the direction he wanted to go.
A friend introduced him to Spain Commercial, Inc. while still in college and he got his shot.
"I like the commercial work," Ryan said. "There is always a different challenge and you get to be more hands on, working with the project manager, the client, bouncing ideas back and forth, constantly moving, and watching the progress."
Working closely with each client means Ryan gets to see, to feel, how important each construction project is to them and their business.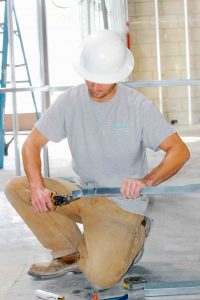 "Our clients are so involved in the process and I love that," Ryan said. "We work with them closely to make sure everything is to their liking and get to see firsthand how invested people are in their own thing. They aren't just paying someone to build something. They are partnering with us to grow their business."
They are also partnering with Spain Commercial, Inc. to lead them on the latest in construction design trends.
Today, the modern contemporary style is taking over, Ryan said, and a lot of people are looking to construct with clean lines, neutral colors, crisp and a lot of windows.
"Commercial spaces are being designed and finishes added like residential spaces," Ryan said. "People decorate just like they would their house. I think those are the ones that turn out the best."
In the end, on each project, Ryan loves to stand back and look at what was built with the hands of the team he serves with.