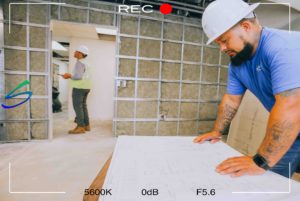 A microwave and Steve Spain.
Ask Eddie Betz how he made his way from being the son of a teenage mother, surviving a challenging childhood, fathering three children by the time he was 20, taking a left turn in life, and then returning back to the right path, and you'll hear a story ripe for the big screen.
But you'll also likely pick up on one important thing and one crucial person.
A microwave and Steve Spain.
This is the story of Eddie Betz. A man with a mission. A man with a smile. A Spain Commercial, Inc. superintendent who leads the construction of dreams in the form of buildings for business owners, and has built a life filled with lessons learned, blessings and mission to spread kindness wherever he goes.
Rewind to the Early Days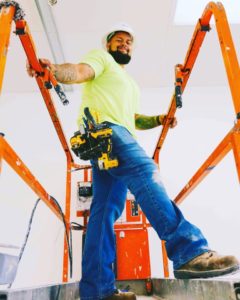 Born in Newport News, Virginia, at Riverside Regional Medical Center, Betz doesn't sugar coat his early years.
His mother was 17 when he was born. She was white. His father black.
"I didn't know it then, but her being a young mother, plus the challenge of race, it was hard for her. So I kept to myself."
Betz played sports, went to school, and shuffled around from place to place, never really having a spot to truly call home.
"My childhood was rough," he said. "There's not too many good, good memories from my childhood. As I got older, I had a bunch of frustration toward family because of it, not yet really understanding how difficult it was for my family at the time."
As he moved into his teenage years, Betz became more rebellious.
Like a lot of young boys, "I thought I knew everything. Long story short, I bucked rules and regulations" and by the time he was 17, Betz was homeless.
"I was still going to school, made it to the 12th grade, but my senior year, when I was 18, I got my girlfriend pregnant."
Because his girlfriend's grandmother was very strict, she kicked her out of the house, and because Betz was already homeless, the two teenagers got a small apartment together and Betz got a job in construction.
They were, Betz said candidly, struggling.
"I didn't know it then, but that was nothing," he said. "Fast forward to a year later and she was pregnant again. Then another year later and she was pregnant again. I wasn't even 20-years-old and I was getting ready to have three kids."
It was a heavy load.
A Left Turn and a Microwave
Three kids at 20 is not easy, Betz said.
Construction work at the time was ok, but not great.
"Construction wasn't working well for me back then," Betz said. "It was honest work, but people would give you a hard time. There wasn't a culture of support. No one wanted to teach you anything out of fear that you would take their job."
And Betz needed money to support his family. Fast.
"I took a left turn then and got into the wrong crowd and started making fast money. Once I got the taste of the fast money, there was no turning back."
Or so he thought.
"I literally woke up one day to two men arguing over a microwave. They were getting ready to go at it over a microwave."
Who argues over a microwave, Betz said he remembered thinking? Why was he involved in a crowd that would act that way?
"From that day forward, I changed. I started having respect for other people, a genuine respect for other people."
Returning to Life
Everyone who knew Betz from his past didn't believe he had changed. He had to prove it.
"I was a pretty tough guy. When you were doing the things that I was doing, there was no room for there to be a nice person. I thought back then that it's when you are a nice person that people take advantage of you. I had to be this hard brick wall."
Fast forward to 2012 and Betz returned to working in construction partly because it was what he knew, where he was comfortable, and a symbol of his life before the wrong turn.
Slowly but surely, things started to fall into place.
Steve Spain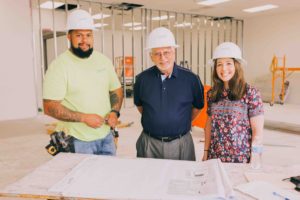 By 2013, Betz was still working in construction, had four children, an apartment and a drive to do even more.
In the summer of 2014, Betz got an opportunity to meet with Steve Spain of Spain Commercial, Inc.
"After all those years, I've learned to read people. I know who is good, decent. I have a good intuition."
Everything about Spain Commercial, Inc. felt right, Betz said.
He started working for Spain in June 2014.
"From the moment I stepped on board at Spain, the blessings started falling from everywhere."
Spain didn't just hire Betz. He mentored Betz.
"From day one, he always asked me what do you want to do? Do you have any goals? It kind of threw me sideways because I never had anybody ask me that. It turned real quick from a boss and employee relationship to a friendship."
The Timeline
When Betz maps out his life, it's these recent years when he realizes he finally started living.
In 2014, he started with Spain.
By 2015, "I became a home owner for the first time in my life. That was something I never believed could ever happen for me."
In 2016, he got married in a beautiful destination wedding in Jamaica.
And in 2017, Betz was rising in the ranks at Spain Commercial, Inc.
"I was just getting better and better. I just kept growing and trying to set bigger goals every year."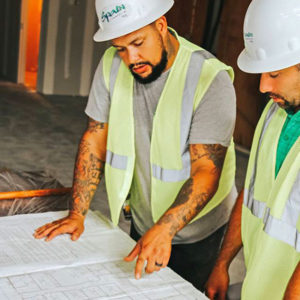 That same year, "I had a lot of people reach out to me from my past and let me know how much I inspired them. They saw where I came from, what I was doing now and how I turned my life around. It gave other people hope."
For Betz today, construction is more than a job.
"I love what I do. I feel like I serve a purpose. I give Steve Spain a lot of credit for that because he helped guide me in my mindset. He's probably the only person who could call me on a Sunday when I'm with my kids and if he needed me I'd jump up for him. He set no boundaries with me and he's always pushing me to do better and better."
That, Betz said, has made all the difference.
BONUS: Quotables from Eddie Betz
Around the job sites, Betz is who people look forward to seeing…and hearing from. He's full of inspiring quotes and always willing to talk people up into going from a bad day to a good one.
Here are a few of the Eddie Betz-isms his colleagues, friends and clients might recognize!
"You have to put in the work. Nobody is going to give you anything."
"Appreciate what you have, what you work so hard for."
"Blood makes us related. Loyalty makes us family."
"More doors open up for you when you're smiling."
"Do things because it's the right thing to do."
"Take time to be nice, to be kind. It doesn't take any money to be kind. It doesn't take a lot of energy to be kind."