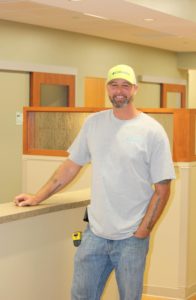 Construction wasn't a dream, per se, for Brandon Cosentino.
At first, as a young teenager, it was a means to supporting his family.
"My Dad passed away when I was 15," Brandon said. "I had to help Mom pay bills and make sure everything was financially straight."
So he took advantage of a summer job opportunity to work in roofing.
For the next decade, even after graduating from high school in Hampton and moving out of his Mom's home, he continued to work in roofing.
"I started doing some things on the side, like home improvement projects, and then went into residential remodeling," Brandon said.
His career journey took him to welding school, the shipyard, and then into a situation where he was laid off from work.
"I tried to start my own business, but the economy had gone south, and I needed to support my family," Brandon said. "That's when I called my Uncle Chris – who had been working for Spain Commercial – and asked if they were hiring."
Chris Cosentino told Brandon, "Steve Spain will hire anyone who wants it and is willing to work hard, but it's up to you come in and fill out an application."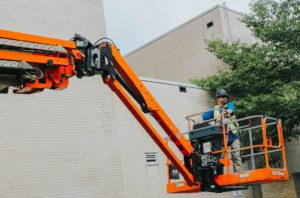 Brandon came in to the Spain Commercial offices on a Monday, filled out an application, and then let a day or so pass.
"Then I called and asked for a meeting with Mr. Spain," Brandon said. "And I called again and again."
When he got a chance to talk to Steve Spain he said, "sir, I want this job. What's it going to take?"
"Can you start Monday?" Spain asked.
Brandon has been with Spain ever since.
"I love it here, I love what I do and it's because of them that I am who I am today," Brandon said.
It's not easy to lose your father as a young teenager. Nor is it easy to feel compelled to have to support your family at 15, or get laid off when the economy dips.
"But things happen for a reason," Brandon said.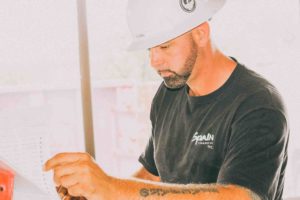 "I've learned over the years that I really like construction," Brandon said. "I really like being part of the Spain team. We want to do a good job for each other, for our clients. There is a feeling here, an emotion, that what you do matters."
Today, Brandon works as a Superintendent on job sites.
"I feel trusted and appreciated," Brandon said. "I don't think Steve would put me in this position to run the big jobs that I do if he didn't believe in me. His name is on everything, but I always feel like if it's my job site, it's my name, too."
Construction can be hard work.
"Things don't always go as planned," Brandon said. "Not on a job site or in life. But we keep a good attitude no matter what we're working on and always treat everybody how we want to be treated."